St. Andrews Asylum is also known as the Norfolk Lunatic Asylum Annexe. Its a vast complex arrangement of traditional H shaped buildings all linked with a straight trunk corridor. Its rumoured that St. Andrews is only one of two original asylums that has a curved corridor. The main Norfolk County Asylum has been refurbished into luxury housing.
Background
Since the move of the Norfolk Primary Care Trust, St. Andrews has been for sale for either conversion into offices or flats. The length of time that St. Andrews has been left shows. Inside, there is moderate damage to roofing and flooring, its looks to be a direct result from copper/metal thefts. This building has had approximately half refurbishment in the last twenty years, the other half is representative of the more original decoration, mainly due to asbestos risks in a significant proportion of build.
In April, 2012 the building and land has been acquired for conversion into offices and asbestos removal has started in preparation for further work.
Background
Plans for St. Andrews annexe, a separate auxiliary asylum several hundred yards to the north of the main buildings on the site of cricket field, were announced in 1876. The buildings were to be of 'somewhat plain, simple and comparatively cheap construction', later described as 'a sort of go-between the Asylum and the Workhouse'.
Designed by the architects Cornish and Gaymer, they were modelled on Metropolitan Asylums Board institutions at Leavesden and Caterham. They comprised a two-storey 'H' shape with large and rather barn-like male and female wards linked, or rather separated, by an administrative cross-section, behind which lay a single storey complex of kitchens and staff rooms.
Costing £33,920, they accommodated 250 patients, two and a half times the original capacity. 'Chronic lunatics, imbeciles and idiots' were placed under the care of Hills' assistant, who became resident medical officer, a head female attendant and a relatively modest staff of attendants and nurses.
St. Andrews has gone under several names outlined below:
Norfolk County Asylum (1814 – 1915)
Norfolk War Hospital (1915 – 1919)
Norfolk Mental Hospital (1919 – 1923)
St Andrew's Hospital (1923 – 1998)
St. Andrews was closed in 1998
History
1714
Problems created by the 'furiously and dangerously mad' were recognised by the 'Vagrancy Acts' of 1714 and 1744, which allowed justices of the peace to order their detention. 18th-century law held such persons responsible for any criminal acts, and prisons or bridewells (houses of correction) were the main destinations for their secure accommodation.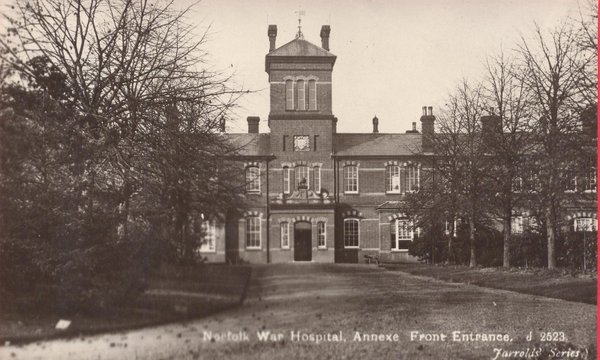 Philanthropic efforts had already produced some care homes but the 1808 'Act for the better Care and Maintenance of Lunatics, being Paupers or Criminals in England' resulted in the construction of a number of large asylums ranging in capacity from 40 to 3,500 inmates.
County Asylums were placed throughout the Country, usually (but not always) within the County they served and sites deemed suitable would commonly be large isolated tracts of land, often served by minor roads and branch railways, the qualities of such sites providing the ideal curative sources for good light, fresh clean air and a nice views across farmland and woodland.
Locally they provided a sustainable source of employment for generations and developed their own communities to serve them. Further afield they were often viewed with suspicion or fear – a distant place where disturbed local people or relatives would be 'removed' to, and often surrounded with much folklore.
1808
On 11th October 1808 it was resolved by the Norfolk Quarter Sessions that the next General Quarter Sessions of the Peace "take into consideration the expediency and propriety of providing a [County] Lunatic Asylum…" following provisions contained in An Act for the Better Care and Maintenance of Lunatics being Paupers or Criminals in England, 48 Geo. III c.96 (1808).
Magistrates were requested to obtain and transmit to the Clerk of the Peace a list of all the lunatics and other insane persons in the county and in July 1809 a committee was appointed "for the purpose of making inquiry into the number of idiots and lunatic paupers…".
The committee reported that there were 153 lunatics in the county and it was resolved to defer the consideration of "the expediency and propriety of providing a lunatic asylum".
In October 1810 consideration for the provision of an asylum was resumed and a committee of nine was appointed "to make enquiry and to consider the best means for building, erecting and managing" such an asylum. The committee reported that the asylum "should be erected as near the City of Norwich as can be so as to be within the County…" and that the County Surveyor had prepared a plan for an asylum capable of receiving 180 lunatics which could be enlarged to hold 300.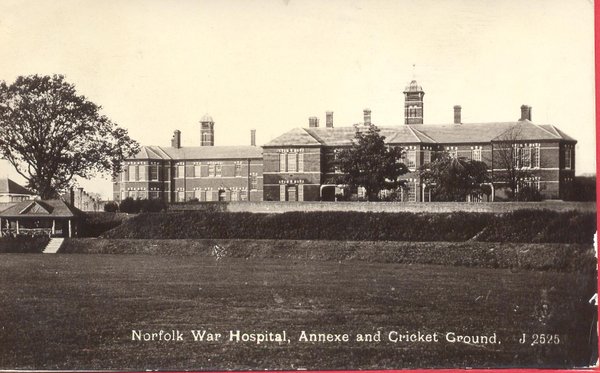 The estimated cost of the institution was £20,000. In April 1811 the Visiting Justices (as the Committee had been renamed) were able to report the purchase of five acres of freehold land at Thorpe at a cost of £600 and in October of that year they had taken possession of the site and that they were "exerting themselves to keep down the expense of the building by open contract for every branch of the work and by avoiding every species of ornament…".
The Norfolk Lunatic Asylum was situated on Yarmouth Road, Thorpe St Andrew near Norwich. The architects were Francis Stone and John Brown (Norfolk County Surveyors) and Robinson Cornish and Gaymer of North Walsham. The County Asylum was intended specifically for pauper lunatics and was only the second institution of its kind when completed in early 1814.
The buildings were originally designed for the reception of 40 male patients in April 1814, followed by female patients in June of the same year. Roughly 70 patients were present on average in the early years. Extensions in 1831 and 1840 allowed this number to double and more substantial additions in the late 1850s as well as the construction of an auxiliary asylum, which was completed in 1881, some 700 inpatients could be accommodated.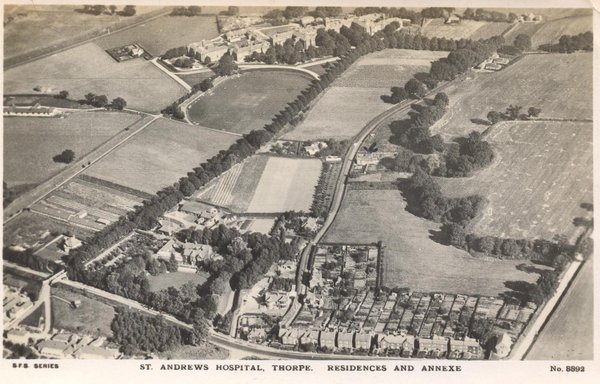 The auxiliary asylum or annexe is situated to the north of the main buildings, on the other side of Yarmouth Road, connected by a lane that was carried over the main road by a bridge. In April 1889 the institution was re-titled the Norfolk County Asylum, and after its modernisation into 'a hospital for mental disorders' (with reorganisation into distinct male and female asylums) there was room for more than 1,000 patients.
Patient care was disrupted by the outbreak of WWI, with most of the patients being evacuated to other institutions across eastern England. The subsequent development of the County Asylum to the beginning of the present century is given briefly in Thomson, D. G. The Norfolk County Asylum, 1814-1903, 1903 (SAH 323).
During World War 1 the hospital was used by the military authorities as a War Hospital. Details of this period in the hospital's history are to be found in the Annual Reports, 1915-1920. The Asylum became known as the Norfolk Mental Hospital in 1920 and the name was again changed to its present title, St. Andrew's Hospital, in 1923. In the period between the two wars the hospital housed more than 1,100 patients.
During WWII the hospital was used as a multi-purpose hospital, providing the additional functions of an Emergency Section hospital such as receiving refugees, evacuees and civilian casualties in cleared wards whilst maintaining its complement of mental patients.
Building work commenced early in 1812 and in October 1813 the Visiting Justices were able to report that the asylum would be ready for the reception of patients at Christmas, however it was not until April 1814 that the asylum was ready to receive 40 male patients.
By July the asylum was ready for female patients and in October rules and orders for the regulation and good government of the asylum were prepared. In 1815 the Visiting Justices declared the final cost of constructing the asylum to be £35,221. 2s. 7d.
1946
Following the National Health Service Act of 1946 the hospital passed from the county to central government control and became administered by the East Anglian Region, Group 7 Hospital Management Committee.
From the 1950s onwards – with improved therapies and new medications, the changing perceptions of patients' rights, and increasingly critical assessment of the psychiatric hospital as as an appropriate setting.
Control passed to the Norfolk Area Health Authority in 1974 following the National Health Service Re-organisation Act of 1973. St Andrew's spent most of its years as an NHS hospital under threat of closure, a long drawn-out process that was ultimately resolved with the securing in 1994 of a separate NHS Trust for mental health care services in Norfolk.
The hospital was eventually closed in April 1998. The original grade II listed hospital buildings from 1814, situated to the south of Yarmouth Road, have since been converted into private housing. The complex incorporates a church (in Francis Stone Court), also converted for domestic use. There is no trace of the nearby cemetery which was presumably built over when the hospital became disused (it is still marked on OS maps).
In January 2011 the auxiliary asylum – St Andrew's House and its 13-acre site – situated north of Yarmouth Road, on the edge of St Andrew's Business Park that has sprung up around it, has been put on the market by NHS Norfolk, touted as a prime site for development. It was most recently used as offices by the Norfolk Primary Care Trust, now NHS Norfolk, which left in 2007 for more modern premises.
Following long talks, in Q1 2012, the site is rumoured to have been purchased by Norfolk's Graham Dacre and in March 2012, asbestos removal teams have started to remove/check for contamination.
Summary & Current Situation
Whilst cheap construction, St. Andrews Asylum is a dominating and large complex situated in a beautiful location. Its a shame to see its deterioration over the last 5 years, theft and vandalism has been significant despite security and police intervention. In 2011, a security guard acted to stop a fire deliberately started in an act of vandalism.
Whilst talking to a previous employee, there are features to this building that are not in current plans such as the link tunnel that runs under Northside road connecting the annexe to the former Norfolk County Asylum, this is not documented and has not been found.
St. Andrews is now being demolished (Feb 2013) – the rich history will be left only in on line articles and memories from those who may have worked there. If you were a former employee then please get in touch, I would love to hear more about this location to update this article
Image Gallery
Available Here
February 2013 Demolition Pictures
Reception and Admin
2009
2013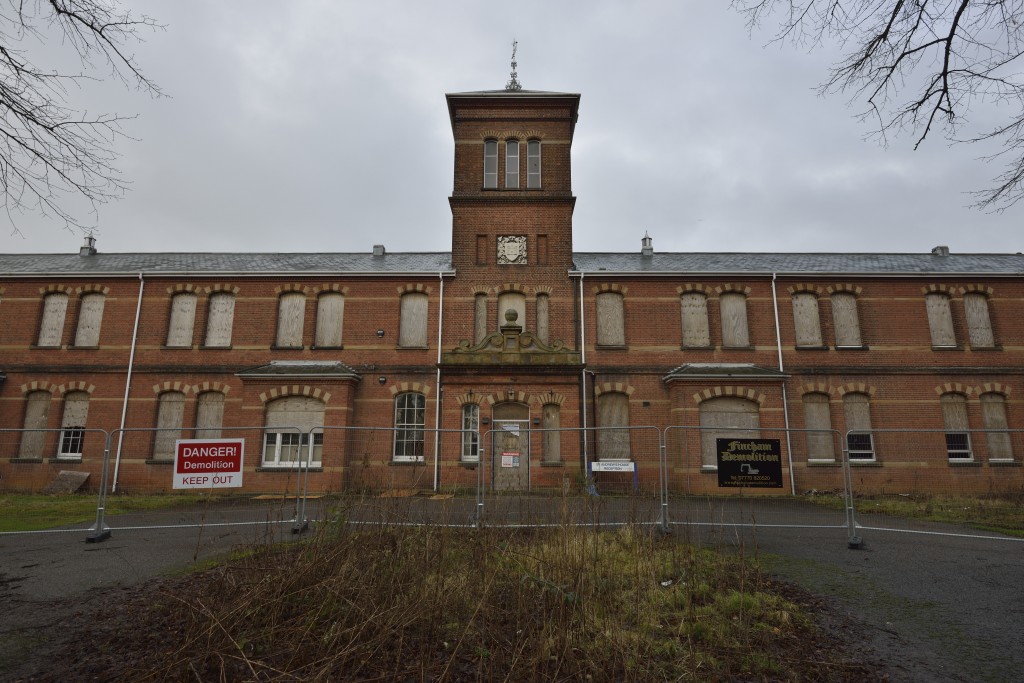 Trunk Corridor and Women's Ward
2009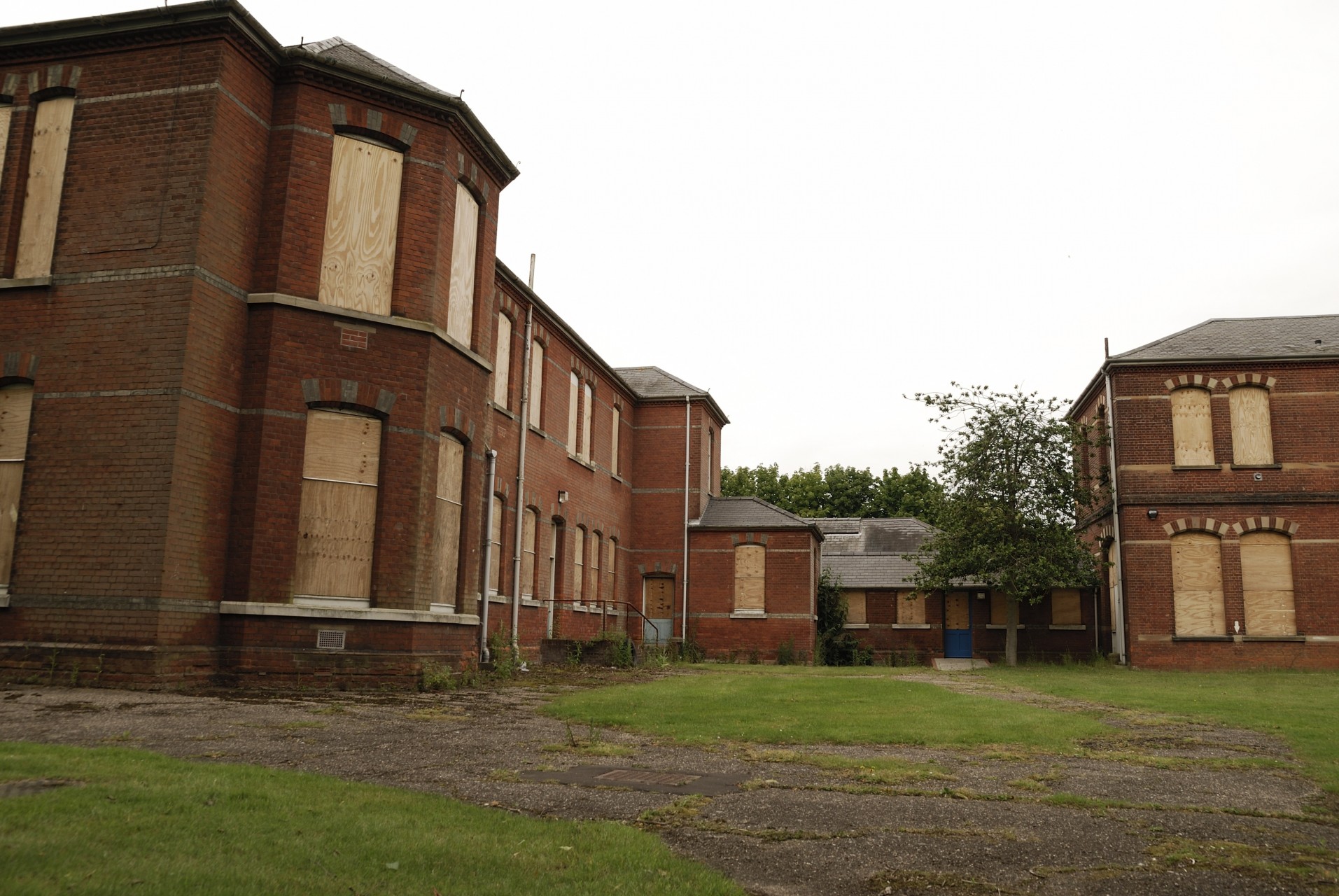 2013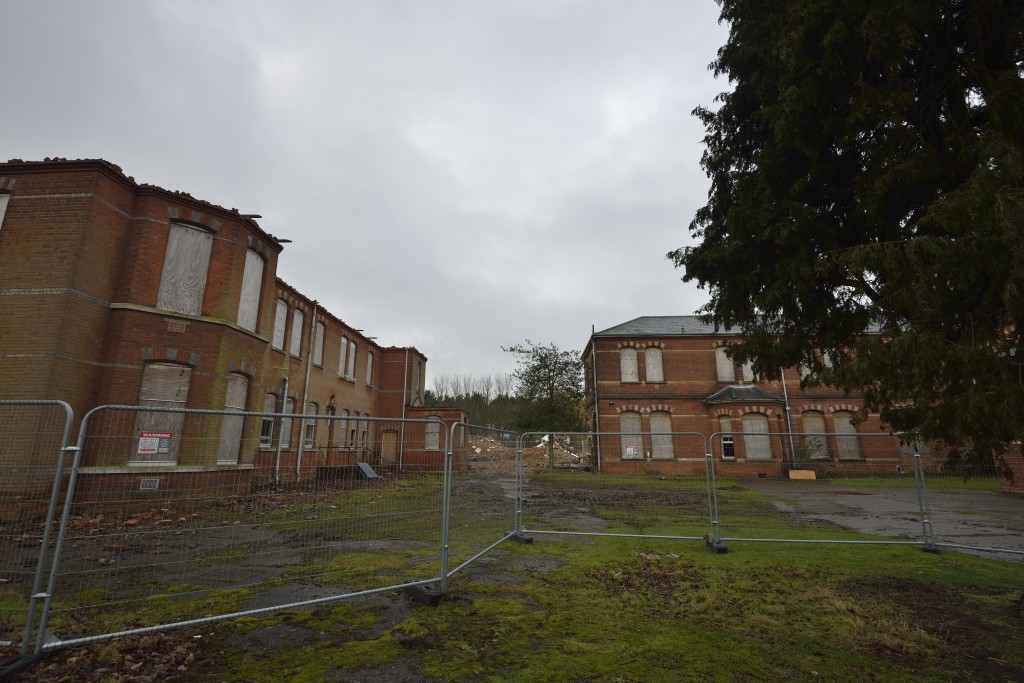 Staff Quarters and Eating Hall
2009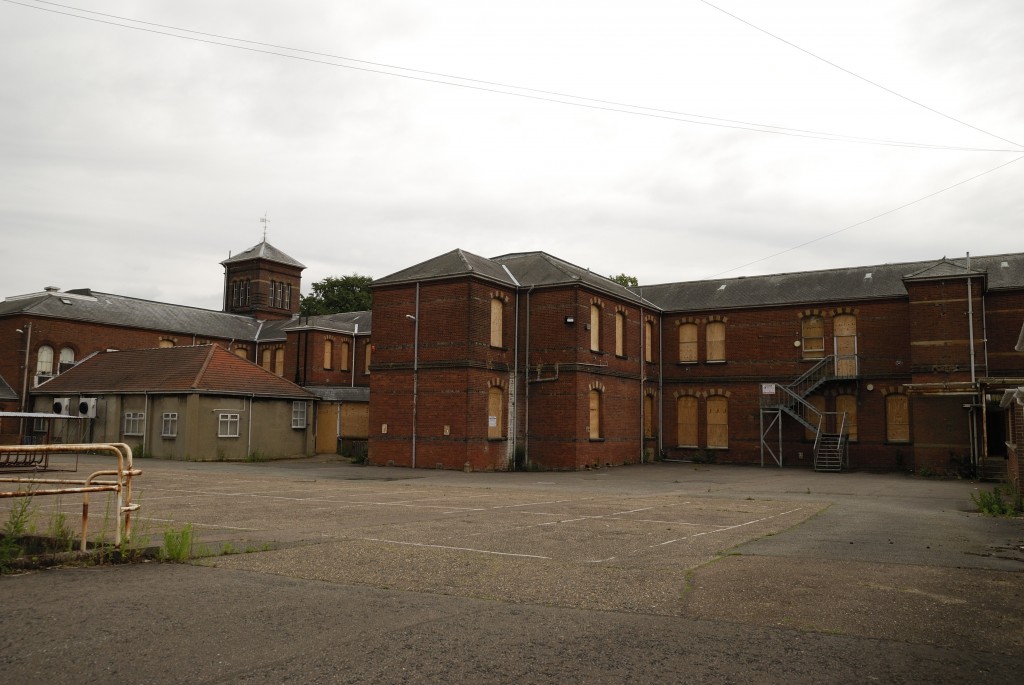 2013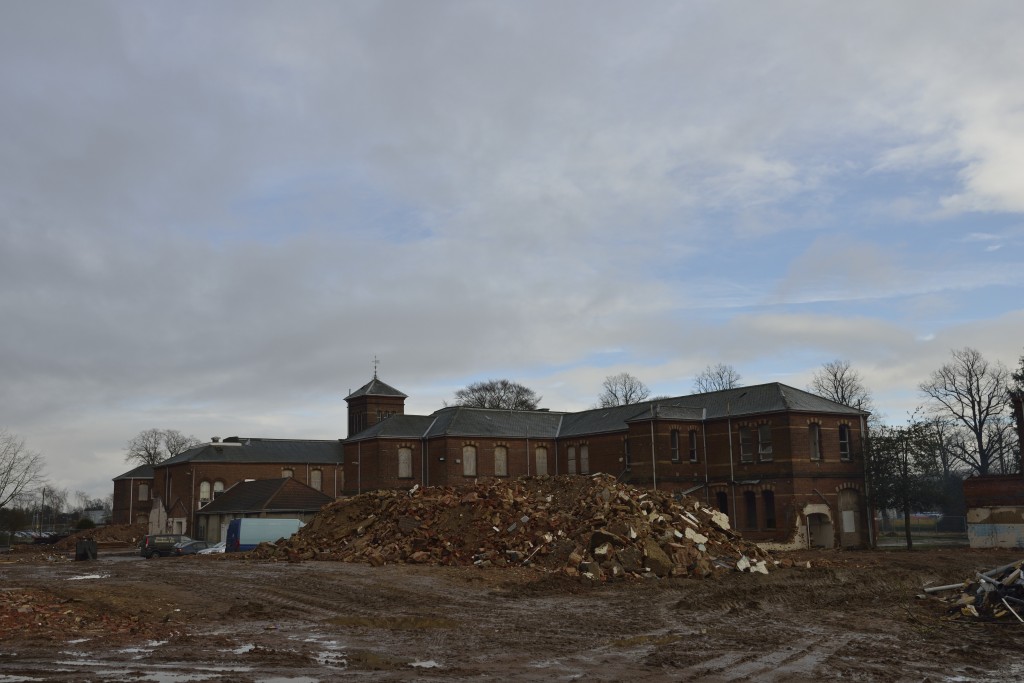 Trunk Corridor and Living Area
2009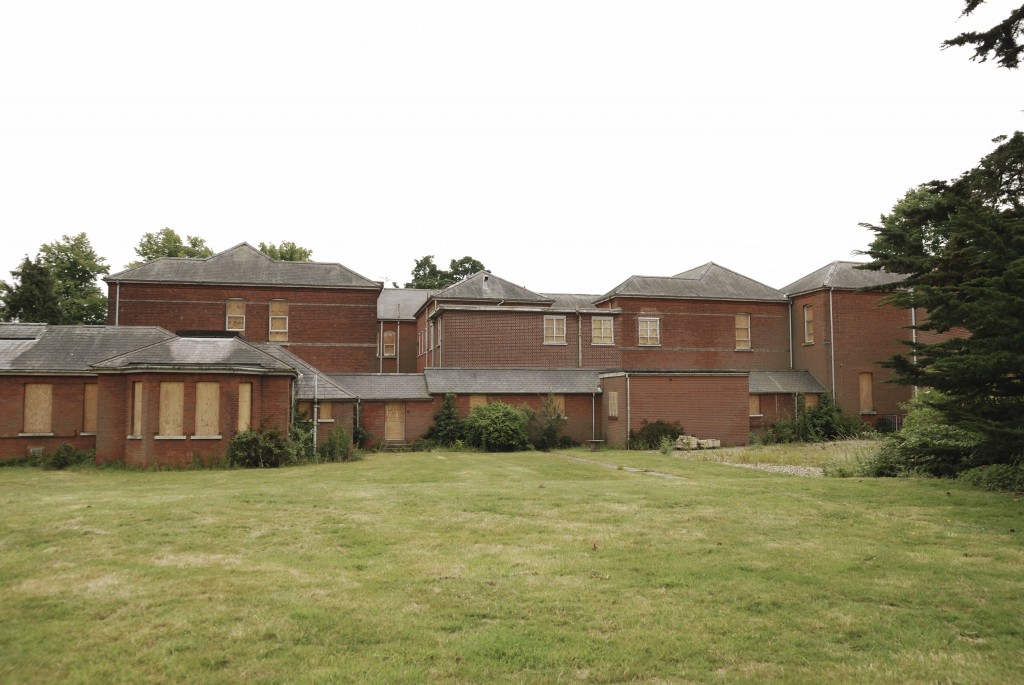 2013