Testing Sandisk Extreme Pro SDHC with Nikon D800
This is a review of testing Sandisk Extreme Pro 16gb 95mb/s UHA-1 SDHC card on the Nikon D800. I'm putting it through its paces and doing some comparative testing against other types of card. Most people ask "why should I pay that for a card when I can get one much cheaper?" or "will my old cards work fine with the Nikon D800" – in this SanDisk Extreme Pro review, we find out…
Manufacturer

SanDisk Corporation is the global leader in flash memory cards – from research, manufacturing and product design to consumer branding and retail distribution.
SanDisk's product portfolio includes flash memory cards for mobile phones, digital cameras and camcorders; digital audio/video players; USB flash drives for consumers and the enterprise; embedded memory for mobile devices; and solid state drives for computers. SanDisk is a Silicon Valley-based S&P 500 company, with more than half its sales outside the United States.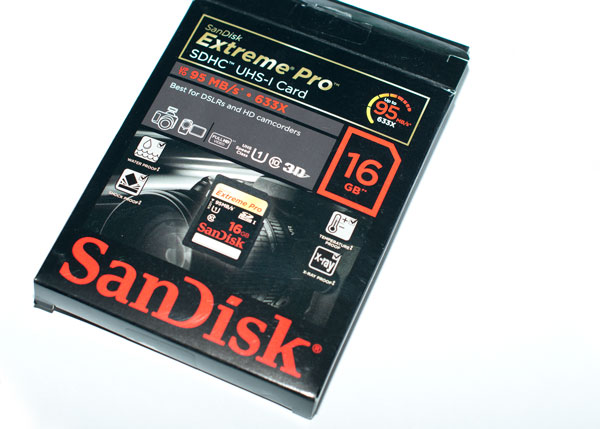 Specification

The SanDisk Extreme Pro SDHC UHS-I memory card features technologies that were previously only available in our professional line of CompactFlash® memory cards. Managed by the Power Core™ Controller, the SanDisk Extreme Pro SDHC UHS-I memory card raises the bar for speed and performance within the SanDisk SD™ memory card product line.
The advanced Error Correction Code engine improves overall data integrity and reliability of the card during read and write. Experience RAW + JPEG continuous burst mode shooting and capture fast-action Full HD† video like never before.
For capturing Full HD video or that professional shot-trust SanDisk Extreme Pro SDHC UHS-I memory cards for your DSLR or HD camcorder
Extreme speed means you'll get the shot you want with more continuous burst mode shooting and rapid transfers to your computer.
Extreme Full HD video recording speed enabled by UHS Speed Class 1†† and Class 10 lets you capture fast-action video in Full HD, even in 3-D.
Engineered with the Power Core™ Controller, the SanDisk Extreme® Pro™ SDHC™ [SDXC™ for 64GB] UHS-I memory card delivers blazing fast performance distributing image data across the card more rapidly and efficiently.
Extreme reliability and endurance, the Power Core™ Controller's firmware increases endurance through wear leveling. The Power Core Controller's advanced Error Correction Code (ECC) engine improves overall data integrity and reliability of the card during read and write.
Extreme durability- built for and tested in harsh conditions-these cards are temperature proof, water proof, shock proof, and x-ray proof***. [only 8-32 GB packs]
Extreme trust: From the flash memory card brand trusted by professional photographers.
Form factor: SDHC™ [SDXC™ for 64GB]
Available capacities: 8GB, 16GB, 32GB, 64GB**
Performance: Up to 95MB/s* (633) read for faster transfer to PC and write performace up to 90 MB/s* (600x) for faster shot to shot
SDHC card dimension: 0.94″ x 1.25″ x 0.08″ (24 mm x 32 mm x 2.1 mm)
Operating temperature: -13ºF to 185ºF (-25ºC to 85ºC)
Storage temperature: -40ºF to 185ºF (-40ºC to 85ºC)
Compatibility: Compatible with all SDHC™, [SDXC™ for 64GB] UHS-I, and high speed bus interface supporting host devices
Security: Built-in write-protect switch prevents accidental data loss
Warranty: Lifetime Limited warranty†
Applications: Store a variety of digital formats, including RAW and JPEG photos, Full HD videos, music and more
Added Protection: 1 year downloadable RescuePRO® data recovery software offer, for bringing accidentally deleted images back to life
Colour: Black/Gold
Capacity: 16GB
Class:10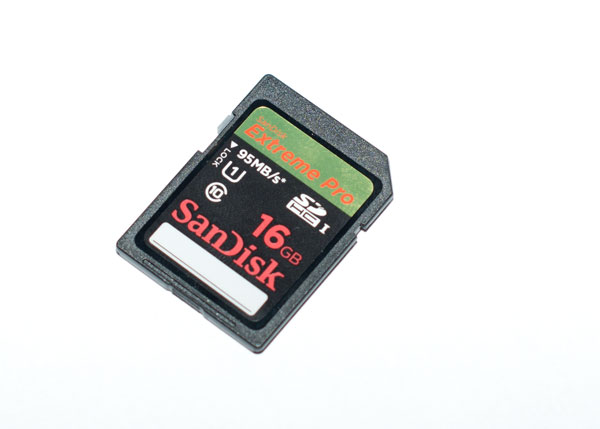 Performance

For performance, I've tested this in terms of its actual performance on a Nikon D800, shooting RAW and on continuous shooting. The practical test was compared against a Sandisk Extreme III 30mb/s compact flash card and a standard Sandisk 8gb SD card.
The results are telling of the price difference.
Sandisk Extreme Pro 16gb SDHC UHA-1
Maximum shots – 26
Calculated write speed – 43.1mb/s
Sandisk Extreme III 16gb 30mb/s CF
Maximum shots – 17
Calculated write speed – 14.4mb/s
Sandisk Standard 8gb SD
Maximum shots – 16
Calculated write speed – 6mb/s
So in terms of real life difference, the Sandisk Extreme Pro UHA-1 has 38% more bandwidth to write images than the standard Sandisk card. Now this might not matter to you as the buffer will do its job until it becomes full then buffer stop kicks in and you are left holding your expensive DSLR whilst it takes an age dumping the buffer to the memory card.
Pricing for the cards are as follows (taken from Amazon UK)
Sandisk Extreme Pro 16gb SDHC UHA-1
Cost – £27.48
Sandisk Extreme III 16gb 30mb/s CF
Cost – £16.95
Sandisk Standard 8gb SD
Cost – £4.10
Construction

I've owned lots of Sandisk memory cards, from SD through to CF. I've never once experienced a problem with any of them. I try to make sure that I format them in the DSLR when I need to. These things are supposed to be water proof and even some have been frozen in ice before to be tested (not that I would try it).
I can also confirm that the SanDisk Extreme Pro cards have no problem shooting in radiation, we took some shots near 'hot zones' at Chernobyl, the cards worked fine so if there is a testament of durability, shooting them in the most contaminated location and we experienced no issues…

Recommendations

Personally I cannot recommend any other memory for DSLRs. Sandisk products have never let me down so I have no reason to change from them.
Yes, they are more expensive than other brands however that price comes with reliability and thats what I pay for. For high end DSLR like Nikon D800, you need a fast card.
When you think that Nikon D800 RAW images are circa 50mb, a standard SD card will write at circa 3mb per second – your buffer is not going to last long and you will have a long wait time as per the performance demonstration. UHA-1 cards in my opinion are a must. A SD card writes at speeds around 1/3 slower than compact flash cards however this is offset in price.
Memory is one of the most corrupt sales in the world. Only buy from authorised dealers like Amazon or brand high street stores – if its cheap, its cheap for a reason and in all reality, your memory card will perform badly. I buy from either high street or Amazon, not the Amazon resellers but proper Amazon – they buy in millions of units so prices are very competitive.
In summary, I fully recommend the new UHA-1 SD cards – worth paying extra for the speed and reliability. If you have ever had a failed card, you will know what I mean…